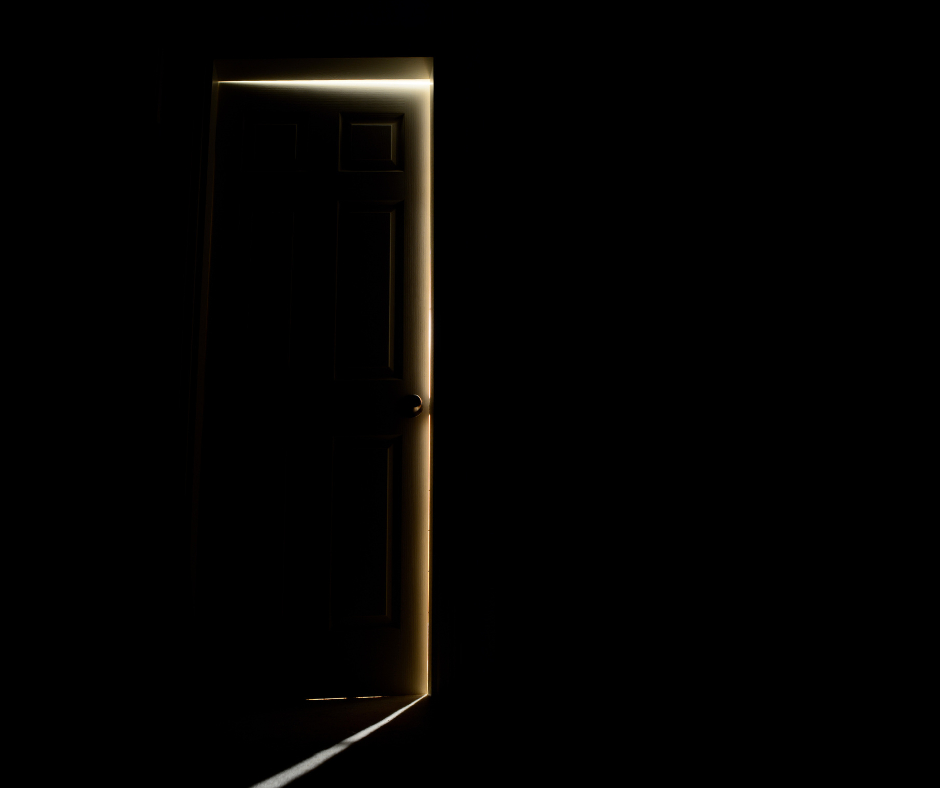 Zenernet Goes Dark By Closing Doors
On October 19th 2022, Zenernet (an American solar installation company) decided to close its doors and shut business down for good. Zenernet made promises that the company couldn't keep and as a result, they have given up making promises all together.
Zenernet Leaves Customers and Contractors Behind
The announcement of closure was made to remaining employees at Zenernet, but not to the public. Customers were left without any direct communications for weeks until they were eventually given instructions to reach out to Zenernet's attorney. Instead, the company has left customers in the dark wondering if their projects will ever get done.
Customers are left wondering if they will ever get their money back from contracts they signed. Many of these contracts were created up to two years ago. Unfortunately, this has left a sour taste for customers relying on Zenernet to complete, or even start, their solar panel installation projects.
Contractors were also left stranded with no communication from Zenernet, leaving the burden on them to help customers. In many cases customers paid Zenernet in full for work performed, but Zenernet did not pay material suppliers or subcontractors. Now customers have non operational solar systems and potential liens on their properties from unpaid vendors that Zenernet has not paid.
This is especially unfortunate with customers hoping to be operational in 2022 for tax credit purposes or for customers hoping to be interconnected under California NEM 2.0 rules, which are expected to transition to NEM 3.0 in a few weeks.
Testimonials From Zenernet Victims
Joe Mendez, President and Owner of Local Solar, made the following statement about the situation in the Zenernet Victim Support Group on Facebook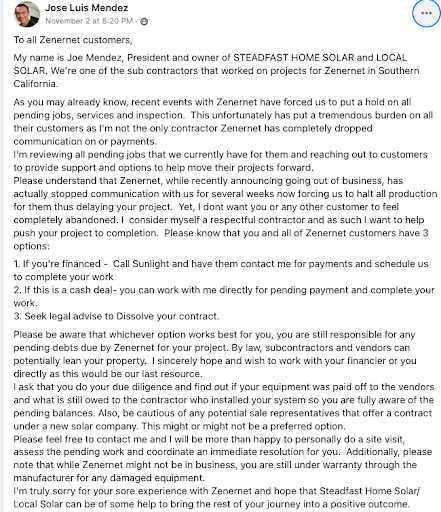 A Zeneret client posted the following about her experience with Zenernet and subsequent experience with Local Solar.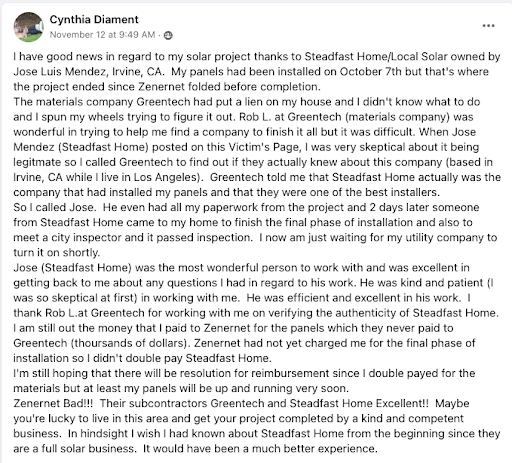 Source: Zenernet Victim Support Group on Facebook
What's Next For Zenernet Customers?
Although Zenernet is attempting to restructure the organization and get its financial affairs back in order, it's highly unlikely that customers will see a refund anytime soon. For customers dealing with improperly installed solar panels or unfinished projects, they will not have to hire other companies to finish the work.
Unfortunately, the solar industry is open to scams just like any other industry. Our company and team is deeply disturbed by the way Zenernet has abandoned customers and its contractors. Local Solar was directly affected as Zenernet was our largest vendor.
Has This Happened Before?
Yes, Zenernet isn't the first company to value greed over growth. This is far from the first time a solar company has deceived customers. It also happened recently with Pink Solar, formerly known as Power Home Solar. These  companies have a few things in common: they aren't local solar companies focused on serving their community.
Zenernet and Pink Solar are national solar installation companies that value profit over everything else. As these CEO's are finding out, this is not a sustainable way to run a company. It's definitely not a winning solution to building trust with customers and making a meaningful contribution to the growth of the solar power industry.
Zenernet used a sales to subcontractor model that too often puts profits over people. Local Solar is based on providing valuable service with no subcontractors or sales people - you deal directly with the people doing the work and you actually get what you pay for.
How Local Solar is Helping
Despite the direct financial hit to the company, Local Solar has been doing everything possible to help people affected by the Zenernet situation. Joe Mendez has been working tirelessly to discount and provide services to customers who need them, but now to add insult to injury, Zenernet's attorneys have recently demanded that Joe stop communicating with customers of Zenernet under threat of legal action.
Many fees have already been waived in order to do the right thing: get customers what they paid for in the first place. As a local company, we support our community and we will continue to provide quality, reliable installation service to all of our customers.
At the base of Local Solar, a division of Steadfast Home, we believe in honest work for honest pay, and the key elements that separate us from most solar companies are:
Complete transparency
No sales people
No subcontractors
Our President, Joe Mendez is involved with the training and fulfillment of all projects. He has worked with the largest solar companies in the industry, and is considered one of the best in the business in terms of quality, honesty, efficiency and communication.
If you are interested in learning more about how we can help you, please contact us or give us a call at (949) 662-3167.